[vc_row][vc_column][vc_column_text]A washing machine is a time savior machine. Those who are living a very hectic life and don't have enough time to wash clothes with hands for them this machine is needed.
If you have back pain then a washing machine is a must. Moreover, machines easily can wash or dry clothes. It is better and more efficient in cleaning stains than humans.
Before using you just have to get an idea about the machines. Here, I have given information about 4 types of washing machines which nowadays are in great demand. 
Go thoroughly to this and have an idea about them.[/vc_column_text][vc_row_inner][vc_column_inner][vc_column_text]
Different Types of Washing Machine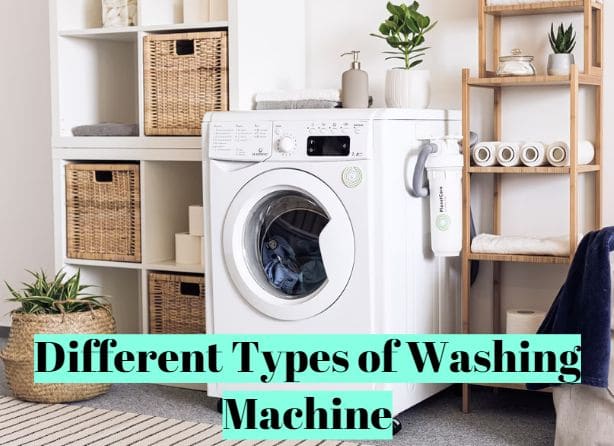 [/vc_column_text][vc_column_text]
Fully Automatic Top Loading Washing Machines 
A full automatic top loading washing machine with agitator work with a full-auto feature. It comes with a touch button. So, for those who always remain in a hurry for them, this is the best washing machine for use.
Moreover, children also can clean their clothes with this machine. With a touch button, all work will be done. Thus, it saves a great use of time.
It has a single tub that washes, dry, and rinses the clothes. The machines have come with front and top-load machines. Its programs and ability to avoid waste materials differ between the machines, depending on its brand.
Semi-Automated Top-loading Washing Machine
The machine is dissimilar to the whole automatic machine. It comes with the half-automatic features. Thus, you have to do some parts with your hand. The semi-automated washing machine comes with two tubs.  You have to fill up the water into the tub before starting the machine. One is used for washing and the other one is used to drying clothes. In this machine, after the washing cycle is complete you need to put the clothes to dry tubs for the drying cycle. That feature is dissimilar to the whole auto machine. 
The machine comes with a half auto touch but provides a great advantage. It saves water. The machine doesn't carry constant water supply thus its water consumption comes with a low. And it is cheap than the other machines.
Washer and dryer combo front loading washing machine
In this section, you will get to know about the washer and dryer combo together in a machine. The front-loading washing machine is a fully automatic machine that works from the front side. Its tubs open from the front. Its price is higher than the top loads one but it saves water and electricity. And also run for the long term.
A few cons are available on this machine. You can't add clothes mid-cycle otherwise your house will be immersed in water. Also, it offers a great advantage. You can keep the machine into cabinets to save space. Thus its space savior.
Stackable With Separate Washer And Dryer Washing Machine
This machine comes with a separate dryer and washer. A question can come to your mind, "why we need separate machines while avoiding combo one''? It's just because of the speed.
If you want your machine to work fast then this machine is best or else the combo one can use. Both work with the best features.
With this machine, you can wash and dry your clothes at the same time. Thus it saves much time. If you come with a bucket of clothes to wash then it won't take much time. Moreover, the machine takes much space for pacing these two.
If you have enough space for your home then you can prefer this machine unless it is better if you choose a combo one.[/vc_column_text][/vc_column_inner][/vc_row_inner][vc_column_text]
Conclusion
Hope the article "Types of washing machines" help you to know about the uses of it. These 4-types of machines perform great works. But, if I asked to say which is best to choose then I'll say the fully automatic machine is the best option for use.
Always keep in mind, at the time of choosing, always think about the quality and space. Good quality comes at the best price.[/vc_column_text][/vc_column][/vc_row]